Interview
Dave Olejnik
Meet Dave Olejnik: Leeds' Coffee King with a Passion for Pasta
You might not know him by name, but Dave is the brains behind one of the city's favourite indie coffee joints – Laynes Espresso.
Open since 2011, Laynes has gone from strength to strength, expanding as its renown for brewing up great coffee and food spread.
This year, Dave decided to add a new venture to his name. Sarto, which opened on 16th October 2019, is a casual restaurant located in Munro House.
It specialises in homemade pasta. We catch up with Dave to chat about his new venture, and his lifelong love affair with Leeds.
Welcome to Leeds...
"I wasn't born in Leeds, I was born in the Midlands", Dave starts, in his (apparently deceptive!) Leeds accent. "I moved to Leeds when I was 20 or 21". It seems he didn't arrive with fully-formed dreams of setting up a coffee mini-empire, either. In fact, he was following his ears, not his mouth, at the time. "Leeds had been home almost before I moved here. I was staying on people's sofas here for a couple of years. It was where I wanted to be because of the music scene," he explains.
"Leeds had a great DIY music and arts scene which I was attracted to;" Dave continues, "where I grew up didn't have that. I wanted to come here and form a band, and book shows." And he did. Dave was playing venues like (now closed) The Cockpit, the Basement (now Key Club), The Fenton and The Packhorse, playing in bands that would bring a couple of hundred people to a room each show.
He moved to Leeds properly in his early twenties. "Around that time I got a job working at a coffee shop called Opposite, which is where I really started paying attention to coffee. I balanced my life between live music work and coffee shop work". After this taste of coffee done well, he "pursued the live music thing a little bit more", spending most of his twenties as a guitar tech for bands on tour. This allowed him to travel, experiencing the coffee culture in cities like Melbourne, Seattle, Chicago and New York, before returning to Leeds.
From Guitar Tech to Coffee Craft
In his late twenties, Dave worked for Coffee Community – "a coffee scene and coffee industry consultancy, training and start-up help business". That's how Dave describes the company that acted as both consultant and trainer to a whole host of high street brands, from coffee retailers to machine manufacturers, ingredient manufacturers to dairies. 
It was "just me and one other guy – Paul Meikle-Janney," Dave clarifies. Paul is now director of Dark Woods Coffee, just outside Huddersfield. "They're just amazing", Dave stresses. 
"I started thinking of opening Laynes when I was 29 or 30," he goes on – "and I opened it when I was 31, in 2011."

Dave at Laynes Espresso
Laynes in Leeds
Laynes could have been born anywhere, you'd have thought, given that Dave had spent the best part of a decade taking in cities all over the world. But Dave has a special place in his heart for Leeds. Especially for its food and drink scene. "It is exciting, absolutely!" he effuses. "Especially because my partner is from Manchester. We talk about it a lot. My sister lives in Manchester and my brother-in-law owns a microbrewery called ÖL , who recently won best new brewer at Indy Man Beer Con – there's a big crossover."
There's always a rush to compare these two major Northern cities, but it's a bit like comparing chalk and cheese. "The most exciting thing in Leeds is that when people get motivated to put something together, they do a really good job," he muses. Is there more scope for cynical, mass-expansion in Manchester? "Manchester is a bigger city with more money…you can see people saying, 'this is where we're going to make profit'," he reasons. Leeds operates with less cash, and less funding. "People are putting their heart and soul into places here. That ends up creating something that the population can get involved with and stand next to, to be able to say 'yes, this is a part of my city, and I want to be involved in its success'."
"

People are putting their heart and soul into places here. That ends up creating something that the population can get involved with, and stand next to, to be able to say 'yes, this is a part of my city, and I want to be involved in its success'."

Sarto at Munro House
Starting Sarto
"We're opening this week", Dave gulps, looking around at the final building work going on noisily around him. By the time this is published, Sarto will be well into her first month of service. 
Dave chose to make Sarto a collaborative venture (it is run in conjunction with the boys behind The Brunswick, up on North Street). "I started Laynes on my own," Dave explains, "and have carried that business on my own. That's not to say the staff don't carry it with me – Carl, [Fleischer, Laynes' Head Chef] for example, has been there since day one," he clarifies. "But setting up, running it, bill paying, management – that's all done by me. With Sarto, I didn't necessarily feel I had the energy, I suppose, to do that again completely on my own." 
So Dave began to look to his friends across Leeds' foodie scene to work out who might be up for collaborating on his pasta plans. During an evening meal with his girlfriend at The Brunswick, he saw a great pasta dish on their menu.  "My girlfriend said, 'well, why don't you just talk to those guys? Maybe they might want to get onboard, maybe they are looking to do something new too!'" So Dave ended up asking The Brunswick's owners. "They were like, 'yeah!' And here we are," laughs Dave.

Pasta Perfection with Local Provenance
Sarto, Dave is keen to clarify, is not necessarily "an Italian restaurant'. "We don't necessarily consider this Italian," he explains, "because that's dangerous, and you upset Italians!" He jokes, but truly, Sarto is something different. 
The impetus and inspiration certainly comes from Italy, but the sauces and dish composition isn't traditional at all – expect British cheeses like Old Winchester and Cornish Cheddar on dishes, as well as unusual complementary flavours like mint. "We use pasta as the foundation;" he explains, "it's a menu built around pasta. And of course it has Italian influence. But a lot of the pasta dishes aren't traditional. We pick up this cuisine and make it onsite, and Yanni [their, by all reports, very talented Head Chef] puts his take on that."
"We're reaching out to a farm in Pudsey for our veg, not a Mediterranean import; it's from just up the road. Although we do import our flour from Petra – an organic flour supplier. I think we're the only restaurant in Leeds using Petra."
"

We're reaching out to a farm in Pudsey for our veg, not a Mediterranean import; it's from just up the road. Although we do import our flour from Petra - an organic flour supplier. I think we're the only restaurant in Leeds using Petra."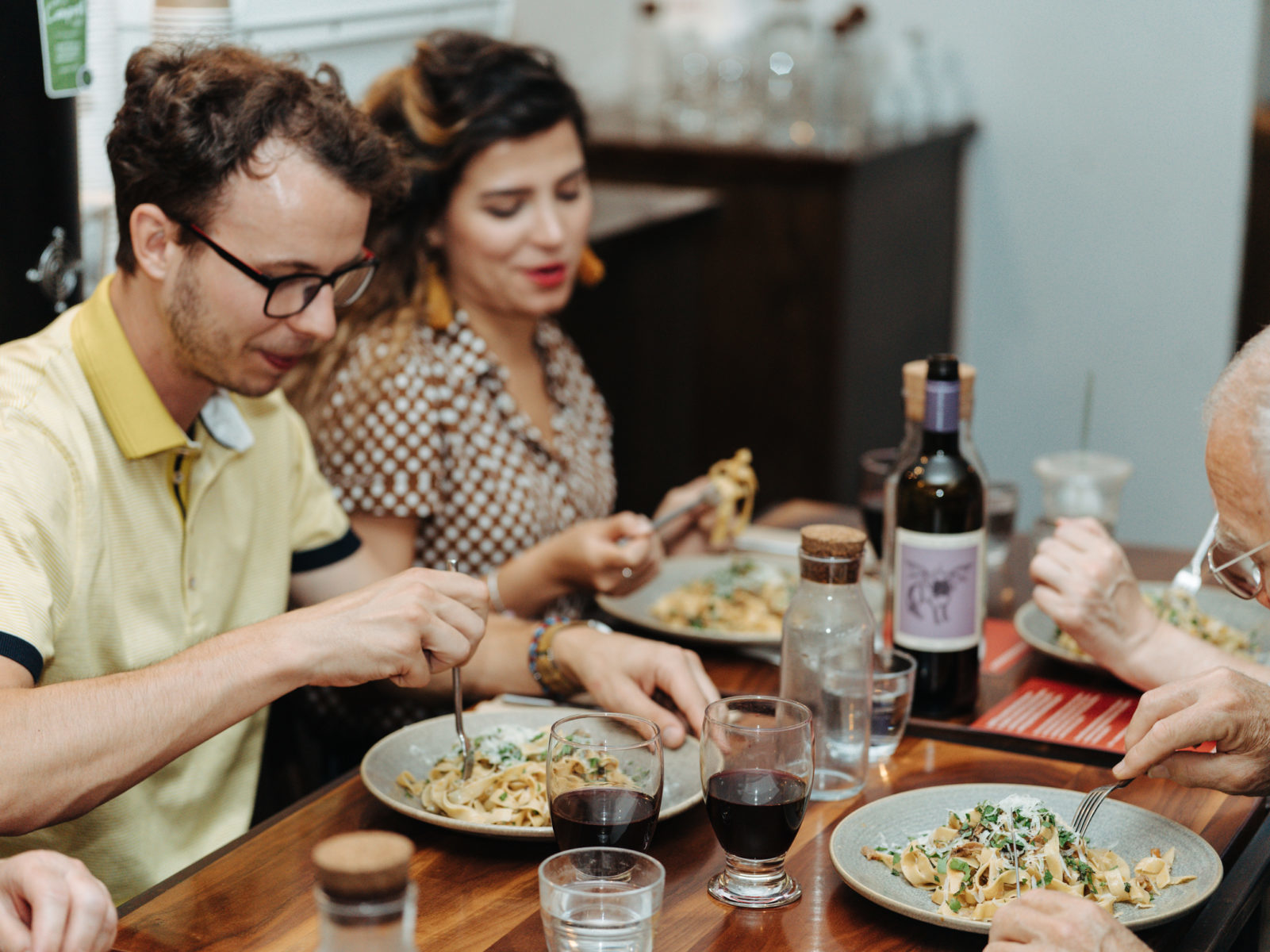 The opening menu certainly plays with what people's expectations for perfect pasta might be. Expect lesser-known pasta shapes (Dave's current favourite is the 'Radiatore', a radiator-shaped ridged pasta perfect for scooping up sauces), created by hand or by their Italian pasta extruder – "like a great big playdough machine," Dave grins.
Sarto: Something for Everyone
Sarto is trying to hit the bill for each and every diner who is in the market for good pasta. "What we wanted to do", Dave explains, "was to create a dining experience that caters to all people – where everyone can come in and have a good experience, and not necessarily feel challenged at every turn." Despite the lesser-known pasta shapes on the menu, the food is approachable, as is the booze. "You'll see Amstel, Moretti, Beavertown and a North Brew Co brew on the taps to start," Dave clarifies. "The idea is to cater to everybody. We'll have a couple of lagers, a pale, and something more unusual. That fourth, 'unusual' line will rotate – we'll reach out to ÖL as a guest, bringing them to Leeds for the first time, too."
"We knew what we wanted from wines, almost from the get-go," Dave goes on. "We wanted to reach out to Chris from Latitude and Steve at Wayward – our friends with great products – and create a wine list that goes through House wines to Special wines and even Organics."
"Brunswick is craft beer, that's their role," he stresses, "just as Laynes is a coffee place. Sarto is about the food, and the general appeal."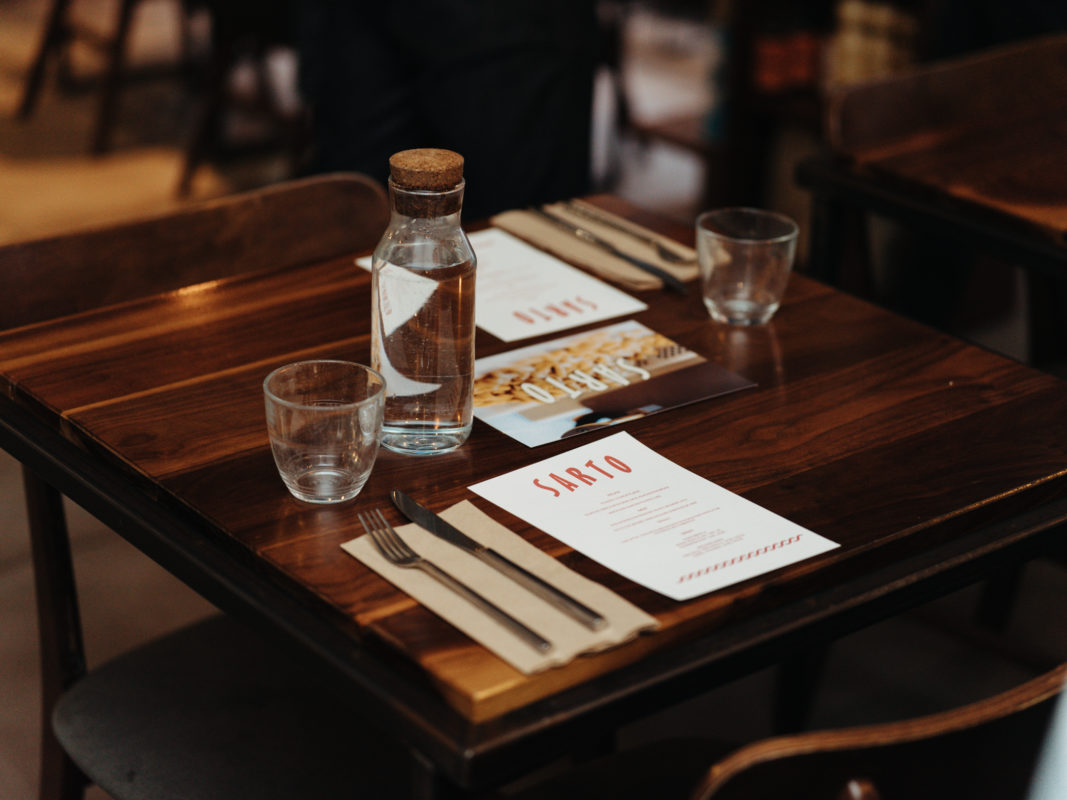 Leading with Local
Sarto has pulled in suppliers predominantly from Leeds and the West Yorkshire region for its fit out, too. "We have Esgate and Kier who formed a lot of the shop fit – the front bar, back bar, the table tops and solid oak benches. Andy and Johnny are people I've called upon, relied upon and loved working with on projects over the years. They're just great", Dave enthuses.
Then there are the amazing terrazzo bartops Sarto have had made especially by Andrews, based in Meanwood, which takes in mind their brick red colour scheme. "That's not something you'll see somewhere else, that's ours!" Dave laughs. "I had a vision in my head of how things would match up; I wanted brick red terrazzo and oak on the bar, against the forest green back bar – all this was in my head, and thankfully it's worked out!"
"The chairs are from Andy Thornton over in Halifax, and the stainless steel kitchen – that's Arthur Waltons, Bradford – with Nick Booth. The light fittings are from Elland's Urban Cottage Industries, the infrastructure like electrics are from Leeds' Design Tonic. And we have Awesome Merchandise decals on the windows. We've not gone further than Halifax when it comes to the interiors! Only our beer taps are from Lancashire", Dave jokes, "well – a member of staff (slash director of the business!) and some beer taps!"
The interior design pretty much sums Sarto up – Italian inspiration, local provenance. A celebration of Italian foodie inheritance, but brought firmly to Leeds and made its own. Both Sarto, and its menu, are comfortable, modern, tasteful and welcoming. This is no ordinary pasta restaurant, it's a Leeds pasta restaurant. And it's one we're excited to road test as soon as we can.
---
Newsletter
If you'd like to be kept in the know just enter your email address below.