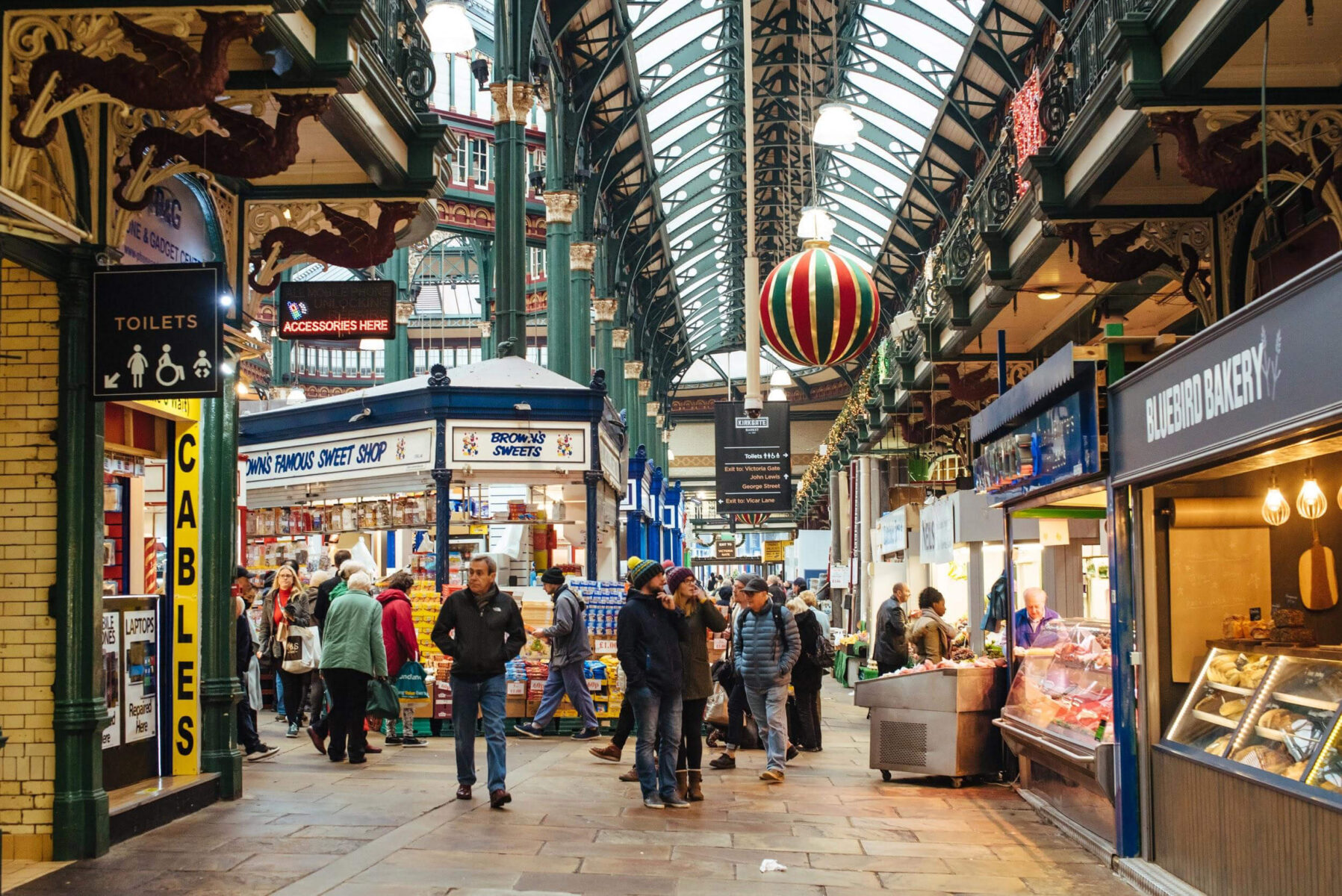 Article
Welcome to Leeds: The Rise of Kirkgate
Kirkgate Market is a true Leeds story of innovation, ambition, disaster and tenacity.
 The largest covered market in Europe, Kirkgate currently hosts 245 businesses across the indoor and outdoor markets, and averages about 138,000 visitors per week.
The fortunes of both the buildings and the livelihoods dependent on the halls within have gone up and down over time, but Kirkgate has exhibited its power to endure and indeed improve, through almost two hundred years of history.
History
Kirkgate Market has been on this site in its current form for 120 years, but the first, open-air markets opened here in 1822. This area had buzzed with the life of the White Cloth Halls and Corn Exchange, but construction didn't begin on Kirkgate market itself until 1857. Unveiled in 1850, the plans for the first market were based on Joseph Paxton's iconic Crystal Palace in London. The development expanded south- and eastwards in 1875.
The central market hall ran alongside Duncan Street and was surrounded on three sides by shops predominantly rented to butchers and fishmongers. Inside, sellers focussed on fruit, veg and dairy produce. The south market hall meanwhile, bordering Hunslet Lane and Meadow Lane, was used by butchers and various miscellaneous shops and stalls, as well as 18 homes and nine slaughterhouses.
Leeds was granted city status in 1893, and the area boomed with commerce and retail from the textile industry. This new designation increased popular desire for grand, civic buildings befitting this new 'city'. The area around the ever-popular market needed some gentrification, surrounded as it was by abattoirs and slums – so a design competition was held to create a grand new entrance way and hall to the front of the market, which was won (amongst mutterings of corruption) by Joseph & John Leeming of London.
The market truly pushed contemporary boundaries, not only in its architecture, but in its engineering too. An innovative cooled area was created to keep fishmonger's stalls fresh in 1895. It wasn't until 1904 that the ornate hall was built (and stallholders revolted at its last-minute closure).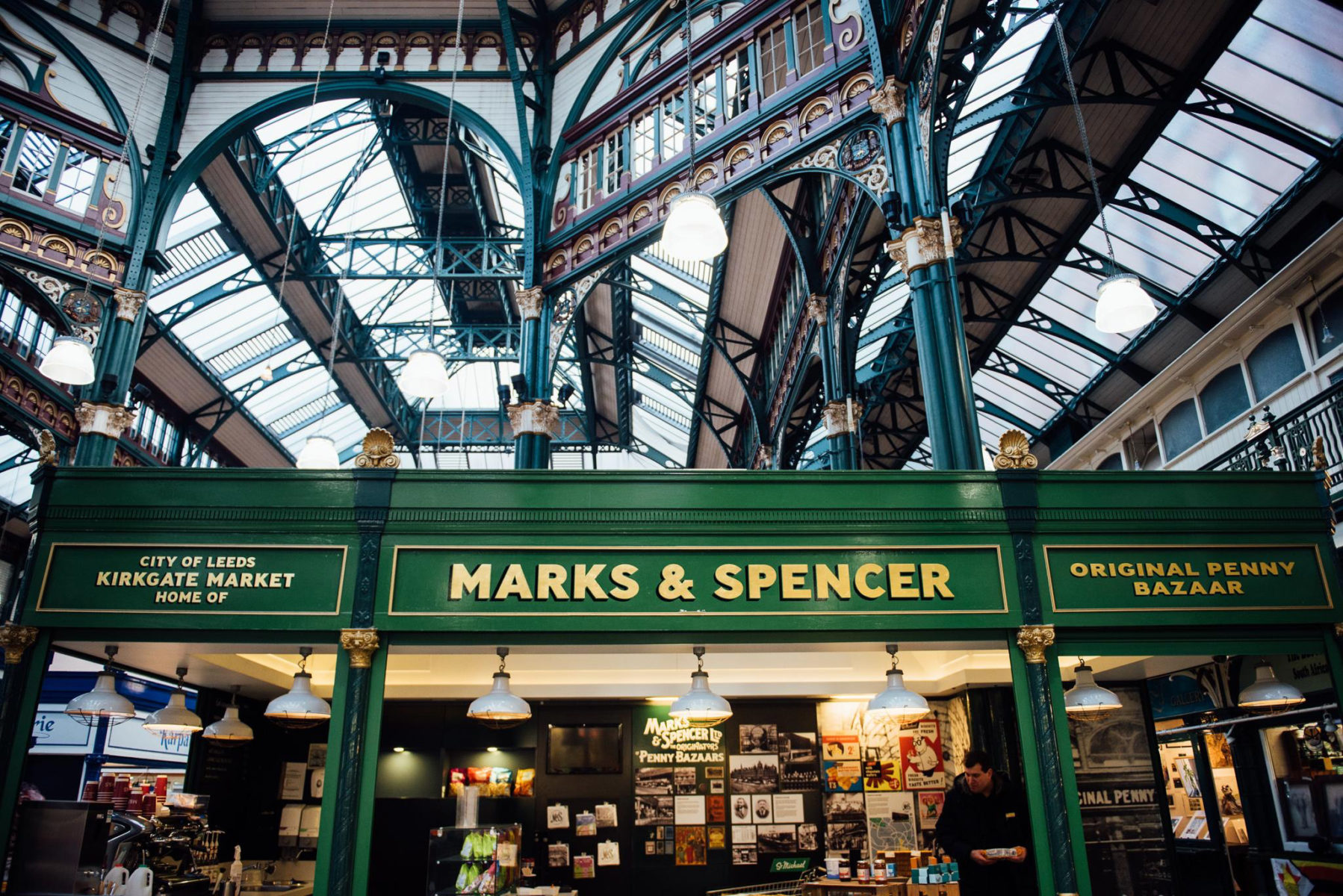 Marks & Spencer originated in Kirkgate Market back in 1884
M&S
National favourite Marks & Spencer originated here in Kirkgate's hallowed halls back in 1884, as a 'penny bazaar'. Lithuanian Michael Marks set up the stall with the slogan "Don't ask the price, it's a penny", and the concept was massively popular. Tom Spencer came onboard as a partner later, and together the business-savvy pair founded Marks & Spencer.
Unveiled in 1984, 100 years after the beginnings of this still-popular British institution, the Centenary Clock in the 1904 Hall marks Kirkgate's connection to M&S. In 2012, the chain looked back to its humble beginnings by opening a stall alongside the Centenary Clock.
60,000 historic M&S artefacts have been safeguarded and protected, and in 2009 they were moved from London to the University of Leeds' Parkinson Building.
Trials, Tribulations and Triumphs
The market had become absolutely fundamental to the city. The market continued to trade hrough the peak of WWII bombings. And air raid shelters were built onsite to provide for the safety of traders. The Ministry of Food (to which Jamie Oliver's current day market institution owes its name) also operated from offices in the market, implementing wartime rationing.
After the war, an open market, car parking and new warehouses were built, whilst some older structures were demolished or refurbished. An astounding 100,000 shoppers would enter the market's hallowed halls to patronise more than 400 traders, every Saturday, during the 1950s.
It took rampaging flames decades later in December 1975 to shut the market down. Although fire tore through two thirds of the market as shoppers went about their festive preparations, no lives were lost and brave traders reopened the (undamaged) 1904 Hall only three days later.
In 1976 and 1981 new halls were opened, and in 1986 building proposals were submitted – and abandoned. The market was in need of development, and work commenced in 1991. THis refurbishment elevated Kirkgate's status from a Grade II to a Grade I listed building.
The 1990s brought further renovation, including redevelopment of the outdoor market and the provision of a new central square. But the rising popularity of supermarkets meant that the once-thriving market was becoming less popular and less well-visited as the millennium struck. In 2013, Leeds City Council invested £12 million in ambitious renovations, including recovering the roofs of the 1976 and 1981 buildings, and creating a cutting-edge events space and hall where shoppers can relax and take advantage of street food vendors and live music performances. Although controversial upon opening, the popularity and footfall of the market is once again on the up.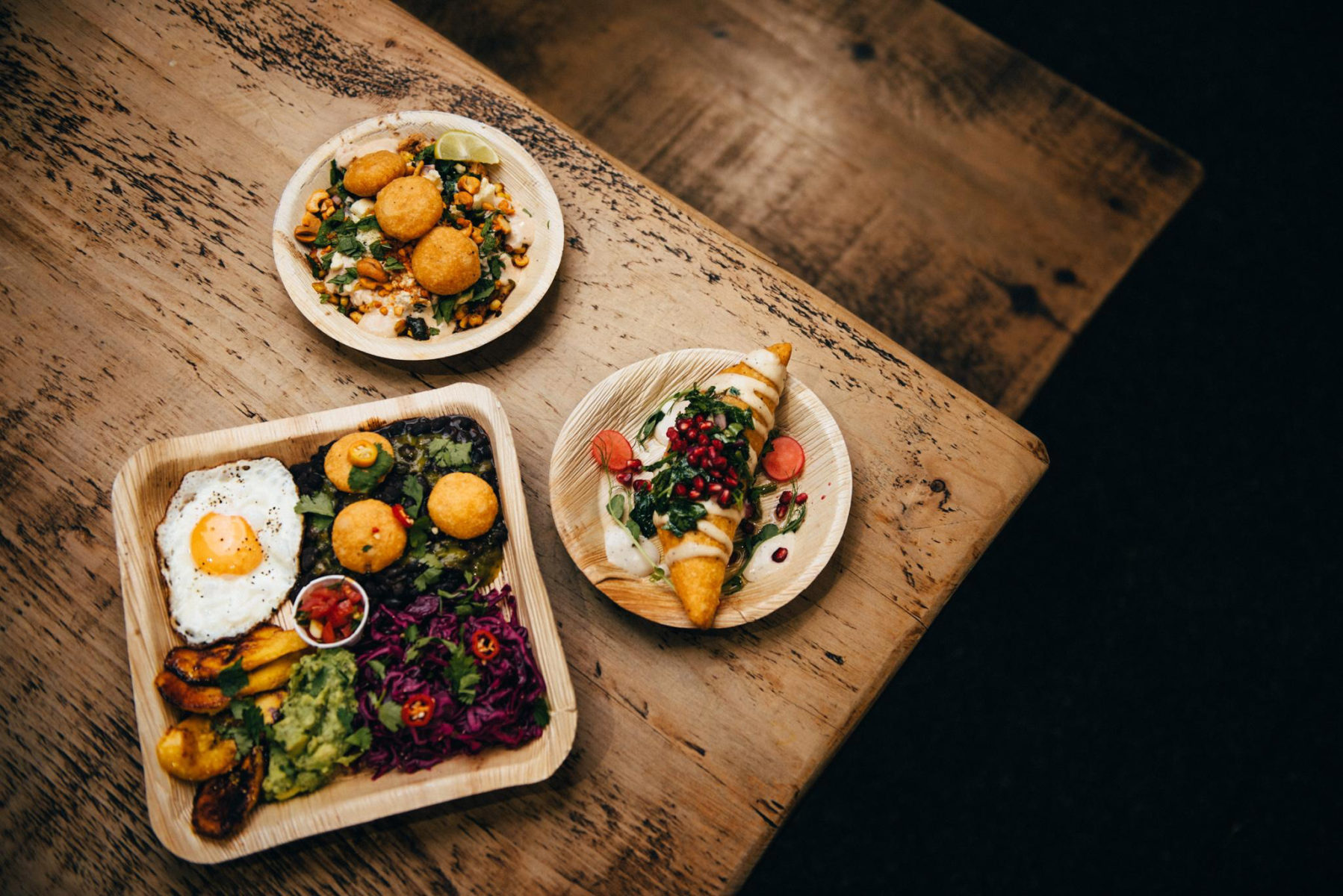 Kanassa Kitchen, Kirkgate Market
The market today
The upwards tangent of the market's successes continue into today. Whilst the opening of high-end shopping centre Victoria Gate directly across the road was a mixed bag (the loss of the outdoor car park there brought footfall down initially), the market is once again at the centre of Leeds commerce.
Kirkgate contains some unexpected and brilliant retail options too, from art gallery Coles Gallery and eco-friendly soap unit Adam and Eco in the 1904 Hall to Keeling jewellers, vitamin shop Herbsville and vinyl record store Too Damm Loud in the 1981 Hall. For Xbox and PS games there is Game Changer in the 1981 Hall, and Zest for beauty items and perfumes. There are a wealth of options for day-to-day purchase (including shops to help you work towards zero waste, like refillable, plastic-free shop Jar Tree), as well as places to buy gifts or one-off items whilst supporting the local economy.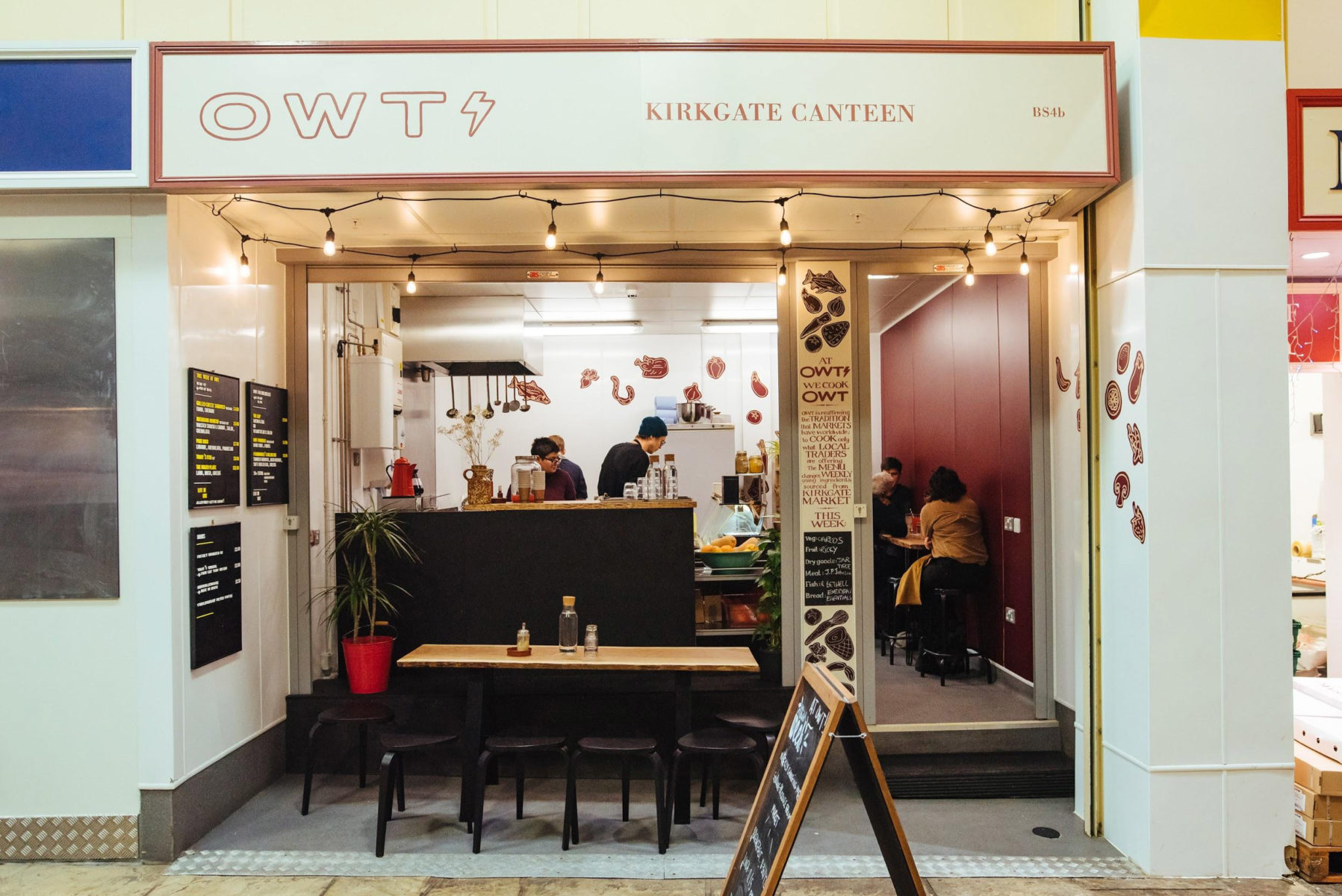 OWT, Kirkgate Market
The market is also becoming renowned for housing some of the best pop-up grub in Leeds. Traders like Owt (who use market produce in a daily-changing menu), Colombian street food experts Kanassa Kitchen, local, homemade hot dog purveyors Fat Annie's and sumptuous veggie Indian aficionados Manjit's Kitchen all bring amazing foodie options to the market's new Hall. History was made, too, as gastropub The Owl opened. The first pub ever to open within Kirkgate, the venue has been critically well reviewed, and brings even more foodie footfall through the market. It also opens up the market to night time visitors like never before – arrive at the main doors and be escorted through the market's quiet streets to the cosy micro-pub in Fish & Game Row. The brainchild of the much-lauded fine dining stars behind HOME, The Owl offers up a menu focussed around fish and game, with fine wines on tap and award-winning Leeds brewery Northern Monk behind the beer choices.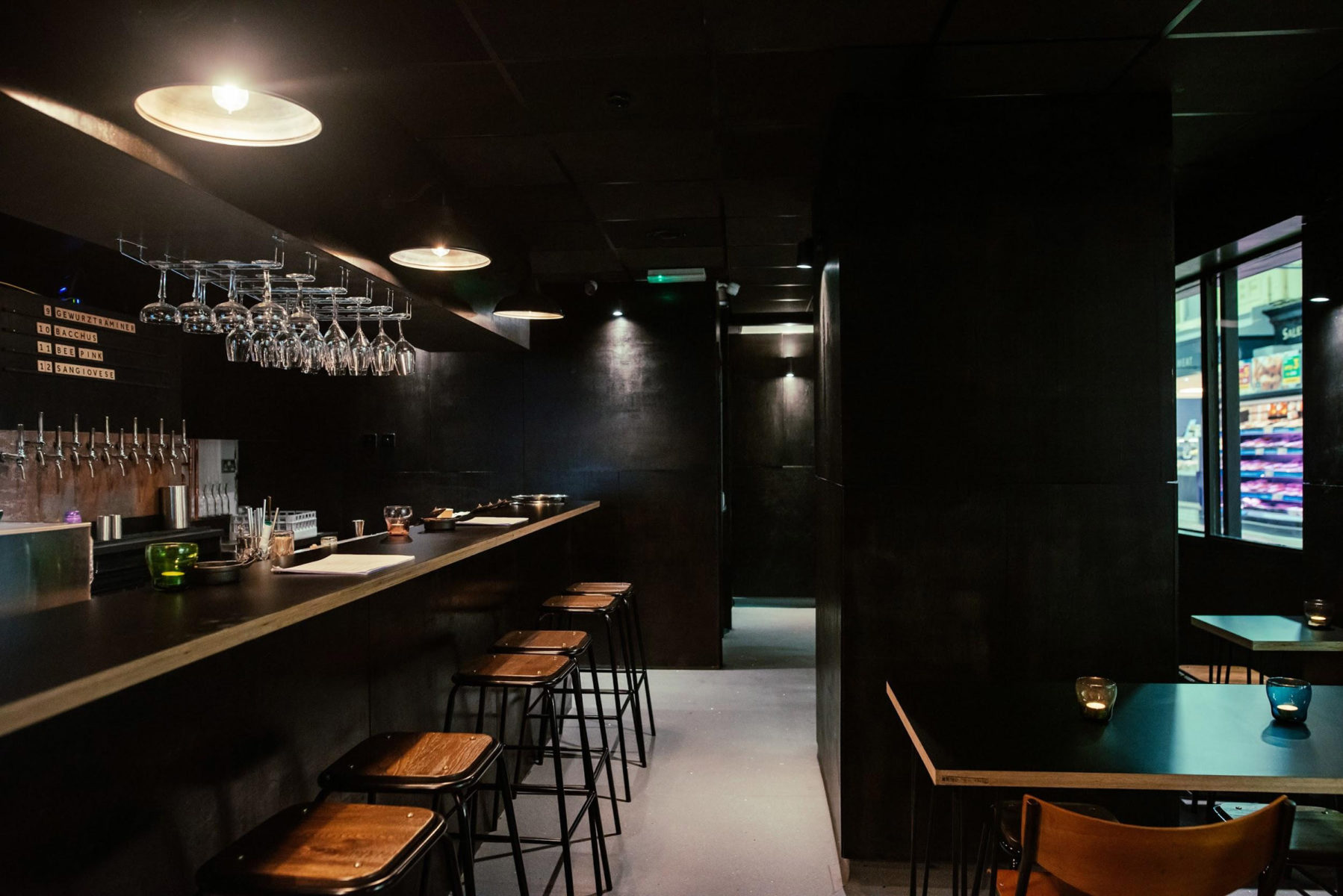 The Owl, Kirkgate Market
With more and more shoppers concerned with supporting local businesses and local, traceable, high-quality ingredients, the market is once more in vogue – and long may this star in Leeds' crown continue to shine.
---
Newsletter
If you'd like to be kept in the know just enter your email address below.