Article
The best spots to get your street food fix in Leeds
It's fast, it's fiery, it's fun to eat and it's easy to find – if you know where to look, that is. The Leeds street food scene has been sizzling for quite some time now, and the world comes back alive in 2021, it's time to remind ourselves of the array of authentic flavours right on our doorstep. Get your notepad ready, because here come some names you won't want to forget.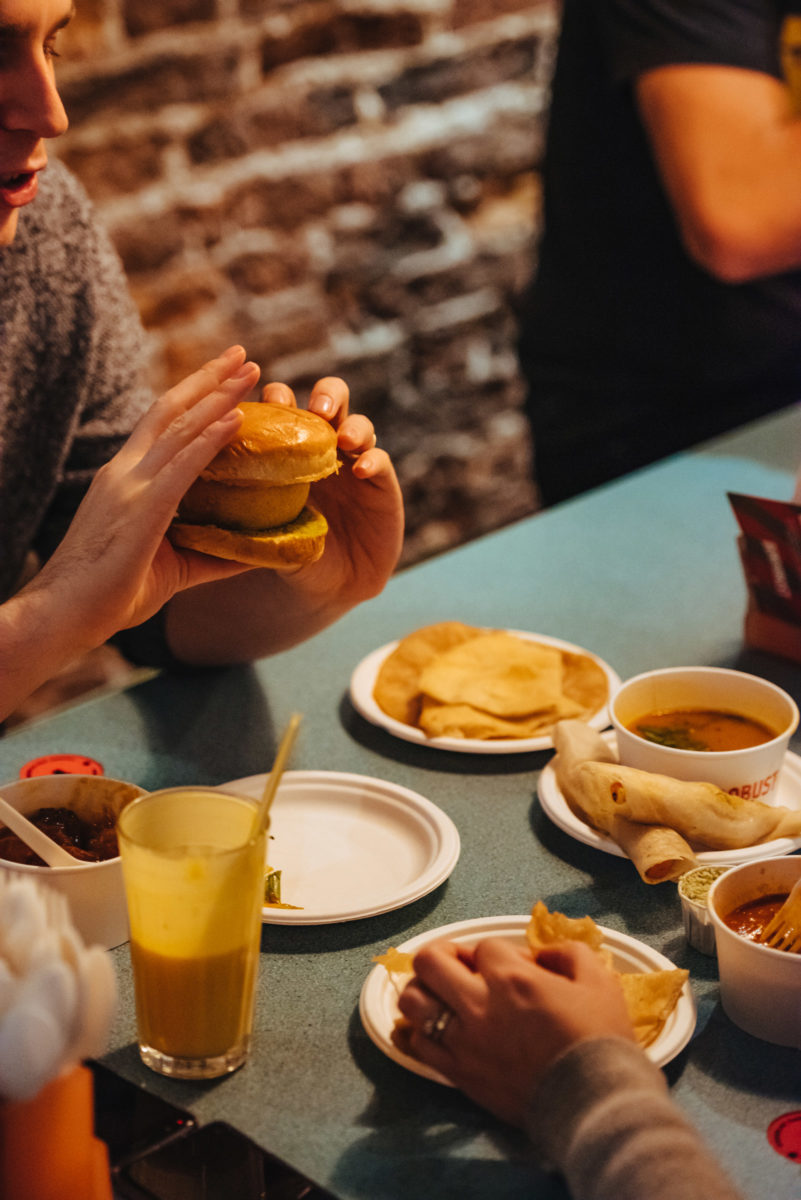 Bundobust
A longstanding Mill Hill resident and leader of the veggie Indian street food game, Bundo has been serving up its entirely meat-free menu of Gujarat-inspired dishes since 2014. Its vibrant array of chaat, curries, bhajis, butties and beers promises something special for every taste.
Address:
6 Mill Hill, Leeds LS1 5DQ

Chow Down
After its launch at Temple Arches in summer 2020, Chow Down has weathered the pandemic-shaped storm to bring us a smashing range of street food ingenuity over the past year. With a changing line-up of old favourites and fresh faces each week – recent hits have included burgers from Little Red Food Truck, Italian fayre from Luigi Street Food, Mexican classics from Sabroso and cheesy delights from Yorkshire Cheese Grill – the tables' QR codes promise a full round-the-world trip.
Address:
Temple Arches, Leeds LS11 5QG

Trinity Leeds
Featuring a rotating line-up of street food vans alongside seven permanent residents, Trinity Kitchen knows its stuff when it comes to vibrant culinary experiences. You'll always find burgers from Archie's, Vietnamese dishes from Pho, Indian fusion bites from Rola Wala, freshly baked goods from Pizzaluxe, fried chicken from Absurd Bird and a range of fresh kebabs from Döner Shack – but look out for special guests offering up new flavours too.
Address:
27 Albion St, Leeds LS1 5ER

Kirkgate Market Kitchen
Looking for another whirlwind trip around the world? Look no further than our very own Kirkgate Market, where the space between the 1904 hall and the outdoor stalls at the back has played host to a series authentic eateries since 2016. Enjoy fragrant Vietnamese dishes from Bánh & Mee, or check out Manjit's Kitchen for a range of vegetarian Indian delights. If you prefer to keep it a little more local, the Yorkshire Wrap Company has your home comforts covered – and if not, you can head to Fat Annie's for a hot dog, ChopChop for Far Eastern flavours, or one of the many other stalls for an alternative destination.
Address:
28-34 George Street, Leeds, West Yorkshire, LS2 7HY
Dough Boys
Pizza slingers supreme, Dough Boys, can be found at the Belgrave Music Hall oven, where their hand-stretched pizzas are available by the slice. Go all in with a meaty Sausage Fest, keep it classy with a sweet Queen Brie, stay plant-based with a Vegan Quackhead (featuring vegan duck, in case you were wondering) or simply opt for a Big Massive Garlic Bread to see you through.
Address:
Belgrave Music Hall and Canteen, 1-1a Cross Belgrave Street, Leeds, West Yorkshire, LS2 8JP
Poco Sicilian Street Food
A strong contender for the best arancini in Leeds, Burley Road's Poco shares roots with Meanwood's Culto, and has a cracking range of pizza, pastries, chicken and those all-important fried risotto balls to choose from. Grab your grub to take away, watch your tongue as you wait impatiently for it to cool down, and then enjoy the irresistible combination of cheese and carbs with a tasty Sicilian edge.
Address:
360 Kirkstall Rd, Burley, Leeds LS4 2HQ
Smak!
Get a taste of traditional Polish cuisine at Smak!, where authentic techniques combine with contemporary flare to produce dishes full of heart, soul and of course, flavour. Try their pierogi for a comforting hit of dumpling-shaped goodness, or continue the heart-warming eating experience with classics like zurek soup and bigos stew.
Address:
372 Kirkstall Rd, Burley, Leeds LS4 2HQ

Assembly Underground
Three-year tenant of Calverly street and long-time purveyor of fine street food, Assembly Underground offers a select line-up of indie traders to satisfy every taste bud. Tuck into slow-grilled, rotisserie-style Brazilian BBQ from Bread & Butter; rub shoulders with the city's finest falafel wraps from Falafel Guys; get your burger fix from Slap & Pickle; or grab a slice from The Pizza Authority. Enjoy it all along with a pint from resident Hebden Bridge brewer, Vocation, and that's your night sorted.
Address:
12 Great George St, Leeds LS1 3AL
---
Newsletter
If you'd like to be kept in the know just enter your email address below.